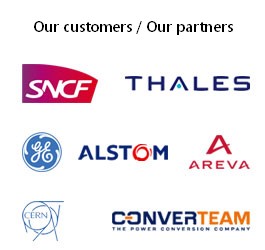 European Directives
Application of the European Directive « RoHS » : (Restriction of Hazardous Substances)
Pursuant to European Parliament Directive 2002/95 / EC, it is prohibited to place on the market - since 1 July 2006 - Electrical and Electronic Equipment containing lead, mercury, hexavalent chromium, cadmium, and retarders Flame (PBB & PBDE): "DIRECTIVE 2002/95 / EC OF THE EUROPEAN PARLIAMENT AND OF THE COUNCIL, relating to the restriction of the use of certain hazardous substances in electrical and electronic equipment ".
ARCEL complies with this directive and anticipates the supply and use of compliant components for products delivered to customers.
Commitment to the European Directive

« REACH » : (Registration, Authorization and Restriction of Chemicals)

The REACH regulation represents a major challenge for all industries in the European Union.

As part of the implementation of this regulation, all actors in the supply chain must be active in implementing the application of REACH.

The company ARCEL in its role of supplier through the references that it markets does not produce substances. The use we make of our raw materials classifies us in "downstream users", therefore ARCEL is not responsible for the registration of the materials we use.

In this context we have carried out a census of the substances used and have contacted our suppliers of raw materials to check the registration of the substances as well as the coverage with respect to the use we make of them. We undertake to keep you informed of the presence of substances in the products we provide to you in the continuity of the process that we have already started.

To date we have not seen any impact of REACH on the products we manufacture. All our suppliers told us that no product used by ARCEL would be stopped or modified by REACH.  However, we remain in touch with our supply chain throughout the process, and will accompany our curstomers in this process.