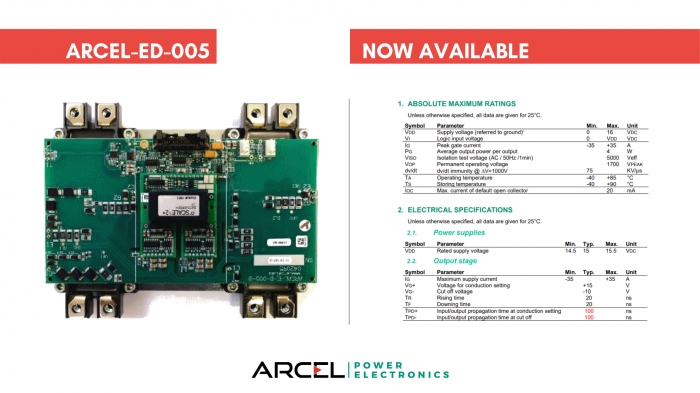 ARCAL-ED-005: an optimized driver to manage two ECONODUAL modules.
admin
(490) (1)
The ARCAL-ED-005 driver board is now available on our website! (ARCAL-ED-005 (arcel.fr))
Driving two ECONODUAL arms in parallel bring two main advantages :
-          Simplification of your desing thanks to the heat isolation of the driver board.
-          This process allow to reduce production and selling costs.
All functions needed for power converters development are embedded on a small size, very versatile single electronic board.
• High isolation and dv/dt immunity
• 4W / ±35A per output
• Short circuit protection
• Active Clamping protection
• Undervoltage detection
• Adjustable dead times
• -10/+15V gate voltage
• Measure of the 2 internal CTN temperatures of the module
• HB or direct mode logic
Contact our sales department for more information!